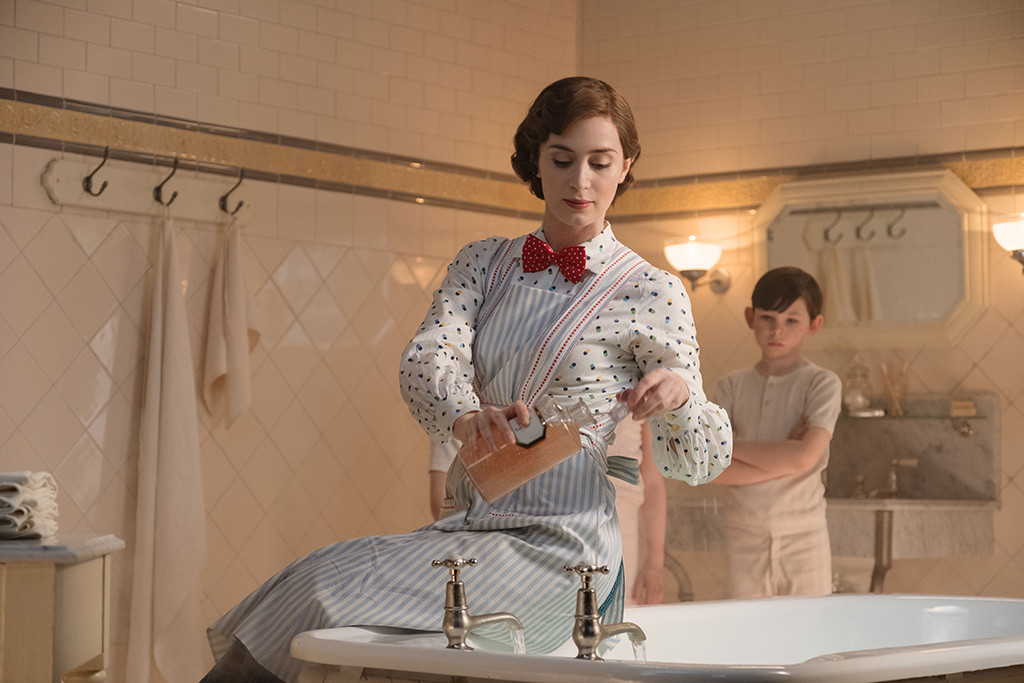 Jay Maidment/Disney Enterprises, Inc.
Grab a spoon full of sugar and get ready to bake a cake because it's Emily Blunt's birthday!
The Mary Poppins Returns star can sing, dance and kicks butt as a nanny, err we mean mom, but when it comes to her birthday we're the ones getting a little treat. Instead of eating cake with the birthday girl like we dreamed of this year, we're celebrating Blunt's big day by honoring all her iconic roles over the years.
How are we doing this you ask? By looking back at her best movie characters from her most memorable films throughout her career, that's how. Then, we want you to vote for the one you can't help but watch anytime it's on.
In case you need a little refresher of all of the epic performances Blunt has given us over the years, we've got you covered there as well.
From an intense but vulnerable assistant in The Devil Wears Prada to everyone's favorite magical nanny in Mary Poppins Returns, Blunt has a wonderful range when it comes to her roles.
The English actress played the iconic Queen Victoria in The Young Victoria and a few years later embodied an engaged woman who can't seem to find the alter in The Five-Year Engagement.
She sang her worries away in Into the Woods and caused everyone to question everything in The Girl on the Train. Plus, she nailed it as a mother who lives in silence in order to hide from monsters with very good hearing in A Quiet Place which led to her winning a SAG Award in 2019.
Clearly the 36-year-old star knows how to embody a variety of characters which is why we're not sure which of her roles is actually her best. The good news is that we don't have to pick one...but we'd really like you to!
Celebrate Blunt's birthday by toasting to her fabulous acting career and then vote for your favorite movie by her below.
BBC
Gideon's Daughter
Emily Blunt won a Golden Globe for this BBC drama, which is set in the midst of the New Labour period and the mourning of Princess Diana's tragic death. PR head Gideon (Bill Nighy) reevaluates his high-profile life after his daughter Natasha (Blunt) threatens to leave him for all the pain he has caused.
Barry Wetcher/20th Century Fox
The Devil Wears Prada
In The Devil Wears Prada, Blunt plays Emily, the first assistant of Miranda Priestly (Meryl Streep), who gives guidance to new hire Andy Sachs (Anne Hathaway) on how to fit in at Runway, a high fashion magazine. Things go awry however when Andy tries to change her attitude and look, which affects her personal life.
Sony Pictures Classics
The Jane Austen Book Club
The English actress brings Prudie to life in this 2007 drama in which a group of women begin a Jane Austen book club only to find their own lives are mirroring the the author's famous novels. 
Universal Pictures
Charlie Wilson's War
In 2007, Blunt portrayed Jane Liddle in this drama, which was based on Texas congressman Charlie Wilson's (Tom Hanks) covert dealings in Afghanistan where he assisted rebels in their war with the Soviets.
Apparition
The Young Victoria
Blunt is Queen Victoria during the first years of her rule in the 2009 film, which also explores the Queen's romance with Prince Albert (Rupert Friend). 
20th Century Fox
Gulliver's Travels
In Gulliver's Travels, Lemauel Gulliver (Jack Black) is sent on assignment to the Bermuda Triangle but his boat is a hit by storm and he ends on the island of Lilliput. He is then captured and brought to the island's royal family which includes Princess Mary, played by Blunt. 
CBS Films
Salmon Fishing in the Yemen
The 36-year-old actress takes on the role of Harriet Chetwode-Talbot, a consultant who works with a fisheries expert to bring fly-fishing to the desert, in this 2011 film. 
IFC Films
Your Sister's Sister
After Iris (Blunt) invites her friend Jack (Mark Duplass) to spend the weekend at her family's island getaway, a drunken encounter between Jack and Iris' sister Hannah (Rosemarie DeWitt) changes everything between the two friends...and things get complicated.
Glen Wilson/Universal Studios
The Five-Year Engagement
The mother of two stars opposite Jason Segal in this 2012 comedy. In The Five-Year Engagement, Violet (Blunt) is engaged to Tom (Segal) but unexpected events keep them from walking down the aisle. 
Sony Pictures
Looper
The Golden Globe winner plays Sara in the sci-fi thriller Looper. In the film, she encounters Joe (Joseph Gordon-Levitt), a looper who sends people from the future to be killed in the past. 
Disney
Into the Woods
The British actress portrays the Baker's Wife in the 2014 musical comedy. All she wants is a child with her husband (played by James Corden), but first they must break the witch's curse and sing a few songs along the way!
Warner Bros.
Edge of Tomorrow
Blunt stars alongside Tom Cruise in this 2014 sci-fi action film. The movie follows Major William Cage (Cruise), who is killed while fighting against aliens, but is in a time loop where he then relives the battle over and over. He eventually teams up with Rita Vrataski (Blunt) to improve his chances of survival. 
Black Label Media
Sicario
The actress plays an FBI agent who's been hired by the government to help take down a drug cartel in Sicario.
Giles Keyte/Universal Studios
The Huntsman: Winter's War
The Huntsman (Chris Hemsworth) and Sara (Jessica Chastain) try to conceal their love in The Huntsman: Winter's Tale, but Queen Freya (Blunt) discovers their secret setting off a chain of events that changes their lives forever.
YouTube
The Girl on the Train
Blunt is Rachel Watson, the girl on the train, who becomes entangled in a missing person's case that will forever change the course of her life in the 2016 film based on the novel by the same name. 
Paramount Pictures
A Quiet Place
In A Quiet Place, Blunt takes on the role of Evelyn Abbott, who along with her family is forced to live in silence because hypersensitive creatures are attacking anyone who makes noise.
Jay Maidment/Disney Enterprises, Inc.
Mary Poppins Returns
In this new take on the Disney classic, Blunt plays the famous magical nanny, who returns to the Banks family to help Michael (Ben Whishaw) raise his children.
Original Source